CHAIRPERSON
SANGITA JINDAL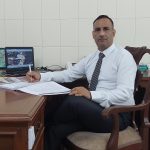 Welcome to the official website of JVM Vasind! We are delighted to have the opportunity to introduce you to our exceptional educational institution and showcase the myriad offerings available to our esteemed visitors.
As the Principal of JVM Vasind, my unwavering commitment lies in fostering an outstanding learning environment where each student can flourish academically, socially, and emotionally. In the face of an ever-evolving world, it is paramount that we equip our students with the skills and mindset required to navigate the intricate complexities of the future. The profound words of the late Ken Robinson resonate deeply within us: "We will not succeed in navigating the complex environment of the future by peering relentlessly into a rear view mirror. To do so, we would be out of our minds" This quote encapsulates our conviction in the necessity of embracing innovation and cultivating forward-thinking in education.
At JVM Vasind, we wholeheartedly embrace this philosophy. Our team of dedicated educators is driven by an unwavering passion for instilling a love for learning and empowering our students to adapt, innovate, and think critically. We firmly believe that education is an enriching voyage that surpasses mere knowledge acquisition. Our overarching objective is to nurture well-rounded individuals who not only exemplify academic excellence but also possess unwavering character, steadfast values, and exemplary leadership qualities.
Our school vision, "Everyday Every Child a Leader," further underscores our dedication to fostering leadership qualities in every student. We firmly believe that each child possesses latent leadership potential, and our endeavour is to create an environment that nurtures their growth and development.
The aforementioned quotes serve as poignant reminders of the transformative power of education and the imperative mission of preparing our students for the challenges and opportunities that lie ahead. At JVM Vasind, we strive to cultivate an environment where students can develop the requisite skills, adaptability, and forward-thinking mindset essential to thrive in an ever-evolving world.
I cordially invite you to delve deeper into our website, where you will find comprehensive information about our distinguished academic programs, captivating curricular activities, and comprehensive support services. I wholeheartedly encourage you to avail yourself of these resources, enabling you to gain profound insights into the remarkable opportunities available to our students. Our dedicated faculty and staff are poised to provide unparalleled support and guidance to every student throughout their educational odyssey.
On behalf of the entire JVM Vasind team, I extend a warm invitation for you to embark on this exhilarating educational journey with us. Together, we can empower our students to realize their full potential and effect a positive change in the world.
Thank you for gracing our website with your presence, and I eagerly anticipate the privilege of meeting you in person.
Warm regards,
Prashant Sharma
Principal
JVM Vasind